Meet Our Team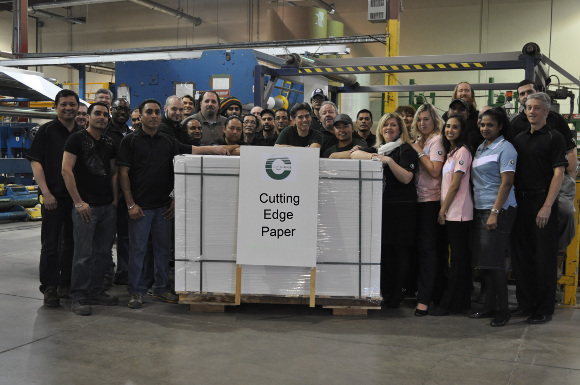 Cutting Edge Paper is a Team that recognizes the value of Partnerships, Relationships and Passion.
We encourage dialogue with our employee team at every stage of the process. If we added up the total Paperboard experience of all of our employees we get a staggering 460 years of knowledge. Our passion, extensive in-house capability, preventative maintenance and quality control check points
creates a continual improvement attitude
. That allows us the expertise of a hands-on customer partnership.
What makes us different? We take pride in the product we produce. Custom Sheeting and Rewinding saves the customer money and reduces the impact on the environment. A win-win strategy.
Our warehouse holds 4,500 tons of mill product and we have quick access to 18,000 tons. We try and keep the most up to date inventory and if we know our customer's requirements we work with them to fulfill quick stock items. Transportation and supply partnerships create a product that gets to where it is going in the best shape possible.
Our partnership with our mill suppliers exemplifies cooperation to mutual customer service objectives. The Mill encourages continual communication throughout the supply chain so that our customers get the benefit of a mill that constantly improves, adapts, invents and challenges innovation in all the substrates. Sappi, Clearwater, and Strathcona have excellent reputations in the industry.
We continually endeavor to fulfill our customer's need for value and quality. This helps us partner with their customer to secure the order and ongoing rapport.
It doesn't come easy and we are constantly challenged to do it better, faster and at a lower cost to the end user. We like challenges and the people that work here enjoy top performance.
We think that says it all. Partnerships, Relationships, Passion.
Let's create a Win-Win Partnership!
Ron Moore, CPA, CMA
President